Queensland Child Protection Week Dinner announcement:
Due to current social distancing regulations the Annual QCPW dinner has been cancelled for 2020.
We invite you to host an event with your colleagues in celebration of Child Protection Week and the work you do in the child protection sector.
Whether it be a lunch, morning tea, dinner or after work catch-up.
Please send us a photo and share your happy snaps on the QCPW Facebook page @QueenslandChildProtectionWeek and Twitter @child_week
Please use the following hashtags when you post;
#qldchildprotectionweek
#CatchingUp4QLDKids
We are working hard to plan and prepare for another successful Queensland Child Protection Week, albeit a little different this year, ensuring our key messages continue to be incorporated into a variety of activities and events across the week.
Thank you for your ongoing support of Queensland Child Protection Week, I look forward to seeing your photos and celebrating the efforts of the child protection sector.
Kind regards
Caitlin
Caitlin King | Project Manager

Queensland Child Protection Week Committee
M: 0418 408 062   |    E: [email protected]  |   W:  childprotectionweek.org.au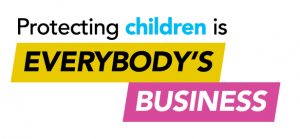 Queensland Child Protection Week. 6 – 12 September 2020
I acknowledge and pay my respects to the traditional owners and custodians of the land on which I work, walk and live.