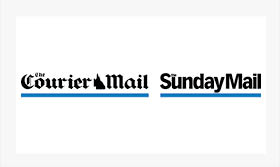 The Courier-Mail and Sunday Mail together with couriermail.com.au, provides the best and latest news, information and entertainment for Queenslanders. Know what's happening, when it happens and stay in the conversation.
Our commitment to bringing you the news spans seven days, with each day offering readers something different. With a long tradition of covering Queensland news and being part of Queenslander's lives, The Courier-Mail and The Sunday Mail have a proud legacy and reputation for breaking news, setting the agenda and chasing down the big stories and holding governments, organisations and big business accountable.
The Courier-Mail and The Sunday Mail provides the Queensland perspective on the big issues and how it affects our lives plus 24/7 access to the best in local, national and world news including sport, entertainment, business, politics and lifestyle. And in-depth analysis, opinion and solutions to navigate today's issues. We are the preferred destination that Queenslanders turn to when the big issues happen in their community.
News Corp Queensland (The Courier Mail and The Sunday Mail) are proud supporters of Queensland Child Protection Week.