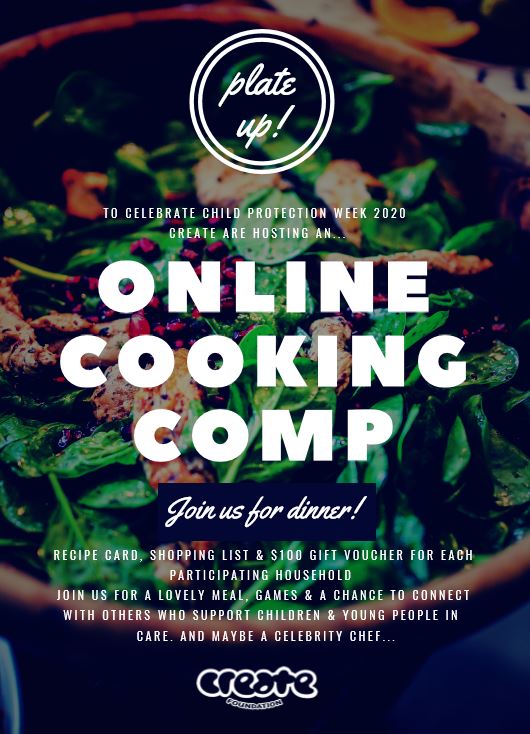 REGIONAL QLD Online Dinner Party –  6:30PM, THURSDAY 3 SEPTEMBER 
CREATE are hosting a series of  online Masterchef style dinners for children and young people in care and their families. Every participating household will receive a recipe card and ingredients delivered to their door to create a culinary masterpiece. Households will then have to prepare the meal on the night of the online dinner to be plated up and judged. Teams will be judged on their ability to work together and their creative presentation skills. It will be a fun night of food, fun and entertainment! We have special guest, online games and prizes to be won!
Each winning family will receive a $100 Hello Fresh food box to hone their skills
Please note: The online dinners are only available for children and young people in care and their households. We have a limited number of spots per dinner, its first in best fed!
Book your seat at the table today! RSVP before the 10 August to [email protected]  or call 0432 173 016 for more details.
Please include which online dinner you would like to attend and the following details, NAME, clubCREATE MEMBERSHIP NUMBER, DIETARY REQUIREMENTS and NUMBER OF PEOPLE (max 6 people). 
If you miss out on the online dinner parties, you can still get involved! Send in a photo of your most healthy and creative dishes and go in the draw to win a $100 Hello Fresh food box! Entries close on Sunday the 6 September. Winners will be announced during Child Protection Week, 6-12 September 2020.
Bon appetit!