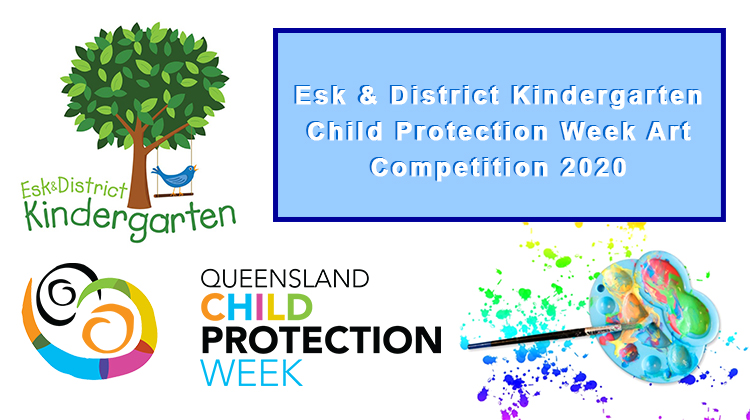 Esk & District Kindergarten Child Protection Week Art Competition 2020
The Esk & District Kindergarten is proud to be hosting an Art Competition to promote the Key themes of Queensland Child Protection Week.
Entries will be open to all residents of QLD, Australia. There will be four categories for entry based on age 0 – 5 years, 6 – 11 years, 12 – 17 years, 18 years and over. The mediums accepted will be painting, drawing, photograph and collage or combination of mediums (original artworks.)
Each entry submitted will be connected to the Queensland Child Protection Week Key Messages. Younger entrants (aged 0 – 11 years) may submit artworks that illustrate an activity, place or person that helps them feel safe and secure.
A panel of three judges will review the entries and decide on all winners, except for the 'People's Choice' award which will be voted on by the Australian Public, via our Facebook page.
There will be 18 prizes awarded: 'Most Interesting use of Colour', 'Most Creative Technique', 'Most Powerful Expression of Emotion' and 'Clearest Message' in each category (sixteen prizes), People's Choice (one prize) and Overall Winner (one prize).
Each of these prizes will be a $50 voucher to a Queensland Business. Participating businesses will soon be announced on our Esk & District Kindergarten Facebook Page .
Winning artworks will be displayed in the Esk Library.
The purpose of the event is to promote child protection by encouraging our community to consider the key messages of Queensland Child Protection Week and to express themselves through art. While simultaneously supporting local businesses and promoting child protection agencies and counselling services.
Email [email protected] to receive the Terms and Conditions and an Entry Form.
Key Dates
Entries Open: 8:30am, Tuesday 11th of August.
Entries Close: 3:00pm, Thursday 3rd of September.
Winners Announced: Monday 7th of September.
Esk & District Kindergarten Child Protection Week Art Competition 2020 Entry Form
Terms and Conditions – Esk & District Kindergarten Child Protection Week Art Competition 2020