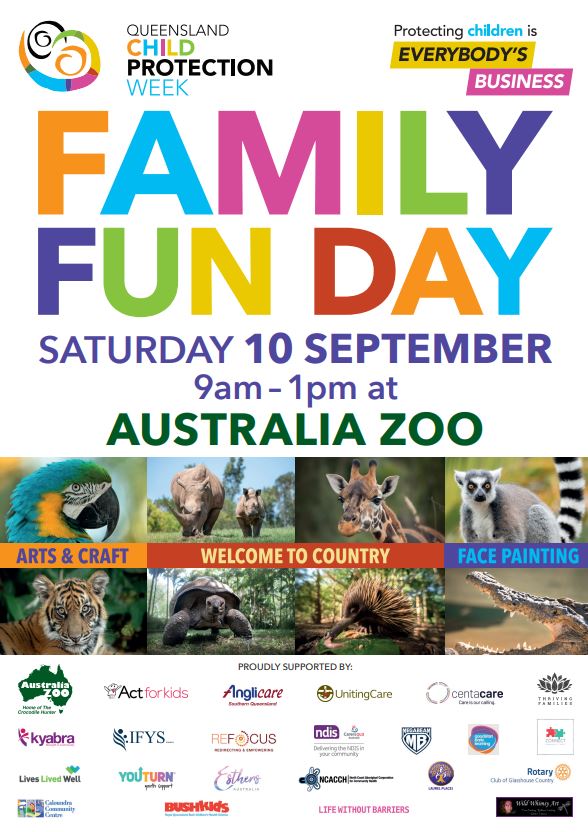 On behalf of the Sunshine Coast Family Collective each year we hold a Child Protection Week event (COVID dependent), for families across the Sunshine Coast to attend.  This year it will be held on the 10th of September 2022.
The Collective has historically (pre COVID) held a successful Child Protection Week event at Kings Beach, Caloundra however this year we are seeking to change tack with a focus on the hinterland and engaging with vulnerable families who may not have been involved before.
Thus, the Collective is pleased to be partnering with Australia Zoo (venue provider) for our Child Protection Week event for the first time.
Our goal is to have up to 100 families come and join our event and the collective hopes to make this an unforgettable occasion for the families involved.
As a part of this event there is also a social media campaign, presented on the television through advertisements and on social media platforms.
The Collective is made up of approximately 30 local support agencies featured on this page who meet fortnightly to work collaboratively to monitor and improve our local service responses for families, as well as report to the Queensland Government on key issues affecting the wellbeing of families living on the Sunshine Coast.
Child Protection is a key focus for each agency and the Collective as a whole.
The Collective is proud to be tasked with delivering a Child Protection Week activity which promotes the theme "Child Protection is Everybody's Business".
On Saturday 10 September participating agencies will be stallholders at Australia Zoo, providing information about their services as well as free interactive activities for families including cultural performances by the Gubbi Gubbi Dance troupe and others, roving entertainment and relevant giveaways.