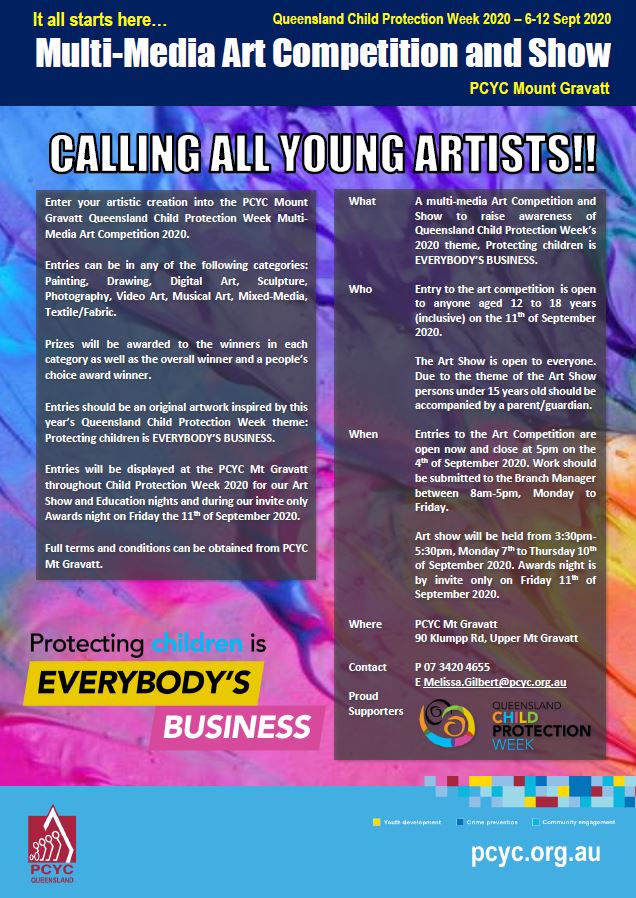 Enter your artistic creation into the PCYC Mount Gravatt Queensland Child Protection Week Multi-Media Art Competition 2020.
Entries can be in any of the following categories:
Painting, Drawing, Digital Art, Sculpture, Photography, Video Art, Musical Art, Mixed-Media, Textile/Fabric.
Prizes will be awarded to the winners in each category as well as the overall winner and a people's choice award winner.
Entries should be an original artwork inspired by this year's Queensland Child Protection Week theme: Protecting children is EVERYBODY'S BUSINESS.
Entries will be displayed at the PCYC Mt Gravatt throughout Child Protection Week 2020 for our Art Show and Education nights and during our invite only Awards night on Friday the 18th of September 2020.
Full terms and conditions can be obtained from PCYC Mt Gravatt.
MultiMedia_Art Comp – download flyer