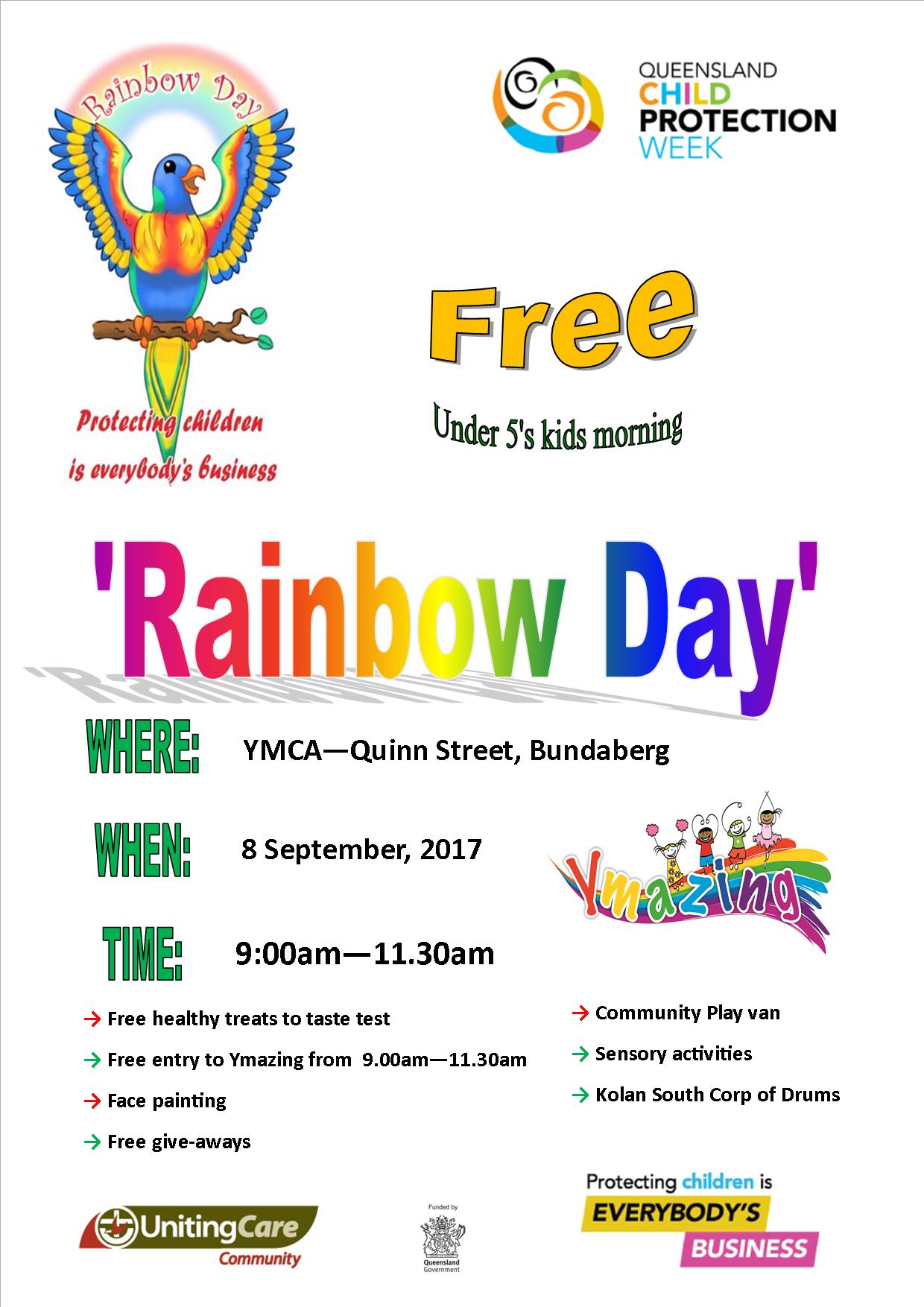 Rainbow Day Bundaberg
Now in it's 12th year running, Rainbow Day is a free fun filled morning for children under 5 years of age, and their families to come along and enjoy lots of fun activities. This year there will be free entry into the Ymazing play centre for children under 5 yrs from 9.00am – 11.30am,  free healthy treats, craft activities, sensory play, obstacle courses, face painting, story telling, information on keeping children safe from a variety of service agencies in Bundaberg and lots more.
The Ymazing Café will also be open for everyone to sit down and enjoy a morning cuppa.
Some of the key messages we want to promote during Child Protection Week include:
Child protection is everyone's business. The responsibility lies with adults in keeping children safe from harm. All members of society need to play a part in ensuring children are nurtured and safe.
Adults are essential in ensuring children's safety and well-being.
Listening to children and young people is the number 1 indicator in assisting their safety and well-being.
Children and young people are honest. They are unlikely to lie about abuse. They are more likely to stay quiet about abuse or harm than to speak up (especially if they know their abuser).
Mean or cruel words harm children and young people.
Understanding why people harm children and young people is essential in helping to prevent child abuse.
The corruption of children and young people by being forced into acts against their will, including illegal activity harms children and young people.
Being ignored, going hungry and feeling and/or being treated as invisible harms children and young people.
Seeing or directly experiencing domestic and family violence harms children and young people.
Being physically, verbally, sexually or emotionally abused harms children and young people.
For more information on Rainbow Day, please contact UnitingCare Community on 41538400.