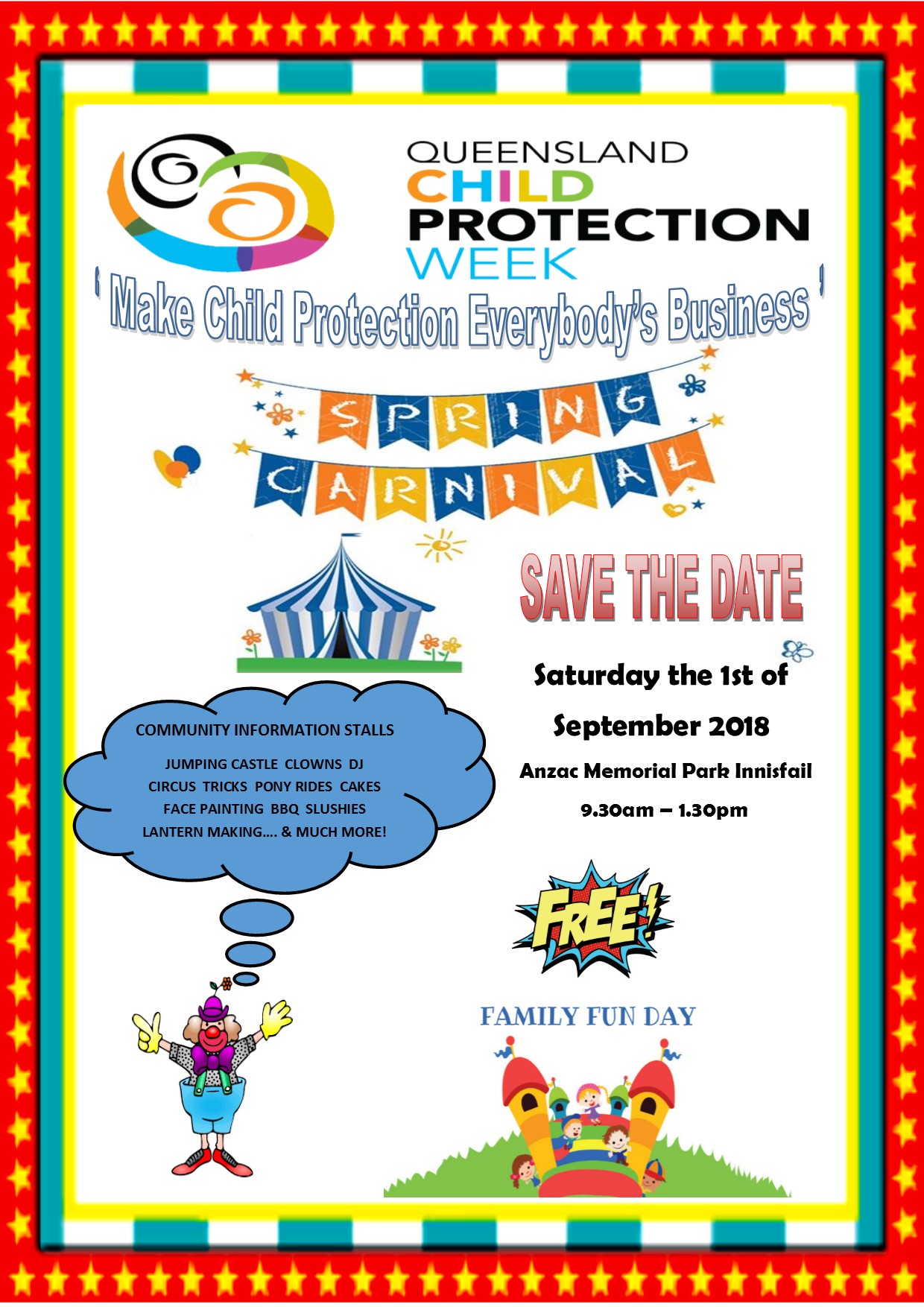 Protecting children is everybody's business and in my region the Cassowary Coast there are more then 120 children currently in foster care and thousands of families that make up our community. The Cassowary Coast region stretches from North of Innisfail to the south to Tully and Mission Beach. We will be highlighting Child Protection Week bringing our community together and make sure that Child protection continues to be "Everybody's Business'.
September the 1st marks the first day of  Spring, a perfect day to hold a Spring carnival. It will be held in a perfect location in the town's most central park with a gazebo, a playground and lots of big shady trees and all amenities. The day will be one of Fun but most importantly an event that promotes the theme Protecting Children is Everybody's Business and reflects the interests and diversity of the region;
Local non-government and government organisations have committed to collaborating to make this a successful campaign to promote the awareness of child abuse and neglect within our community, highlighting the importance of Child protection Week. Some of the organisations are Child Safety Innisfail, Community Support Centre, VPG-Every Family, The Pyjama Foundation Cairns, Mamu, IFYS Cairns, Innisfail Police as well as schools and Early Childhood services. Our local Council will lend support as well as all emergency services being invited to participate.  Many of these organisations promote services available to support children and families who have experienced child abuse and neglect or are at risk. Each of these organisations have the dedication and passion to support this awareness campaign and community event. They each have resources available to equip individuals and communities with knowledge and skills to understand child abuse and neglect and empower them to take action. We will have free food and drinks, Lara the clown, a jumping castle, pony rides, Rosie the circus performer, a DJ, face painting, and much more. We will also be highlighting the 'Shine a Light for Children' lantern Project provided by Hands on Art, where children can make their own lantern at a workshop being run by the Cassowary Coast family daycare educators.
Keeping children safe is serious business but if we can spread the message among the community while at the same time giving children who may not have this opportunity a free and fantastic fun day to remember, then we will have achieved our goal of making Child Protection, 'Everybody's Business'.