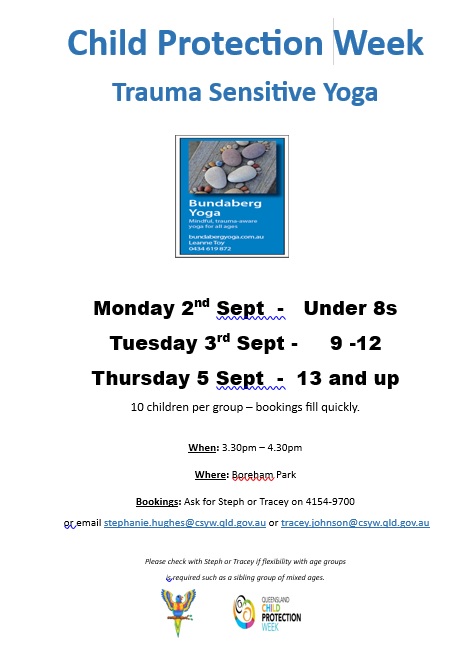 Leanne from "Bundaberg Yoga" will be providing children the opportunity to be a part of the free "Trauma Sensitive Yoga" sessions during Child Protection Week.
Three classes will be available throughout the week for all age groups of children including under 8's, 9 -12 years and 13 years and up.
Yoga classes are fun and practical. The children are given the space to be completely themselves, guided through gentle yoga postures, working with the breath and practicing techniques such as visualisation and meditation. Strength, balance and flexibility are nurtured gently in the physical body and these qualities are carried harmoniously into the mind and the spirit.
Monday 2nd Sept  –   Under 8s
Tuesday 3rd Sept –     9 -12
Thursday 5 Sept  –  13 and up
10 children per group – bookings fill quickly.
When: 3.30pm – 4.30pm
Where: Boreham Park, Bundaberg
Bookings: Ask for Steph or Tracey on 4154-9700  or email st[email protected] or [email protected]
Please check with Steph or Tracey if flexibility with age groups is required such as a sibling group of mixed ages.