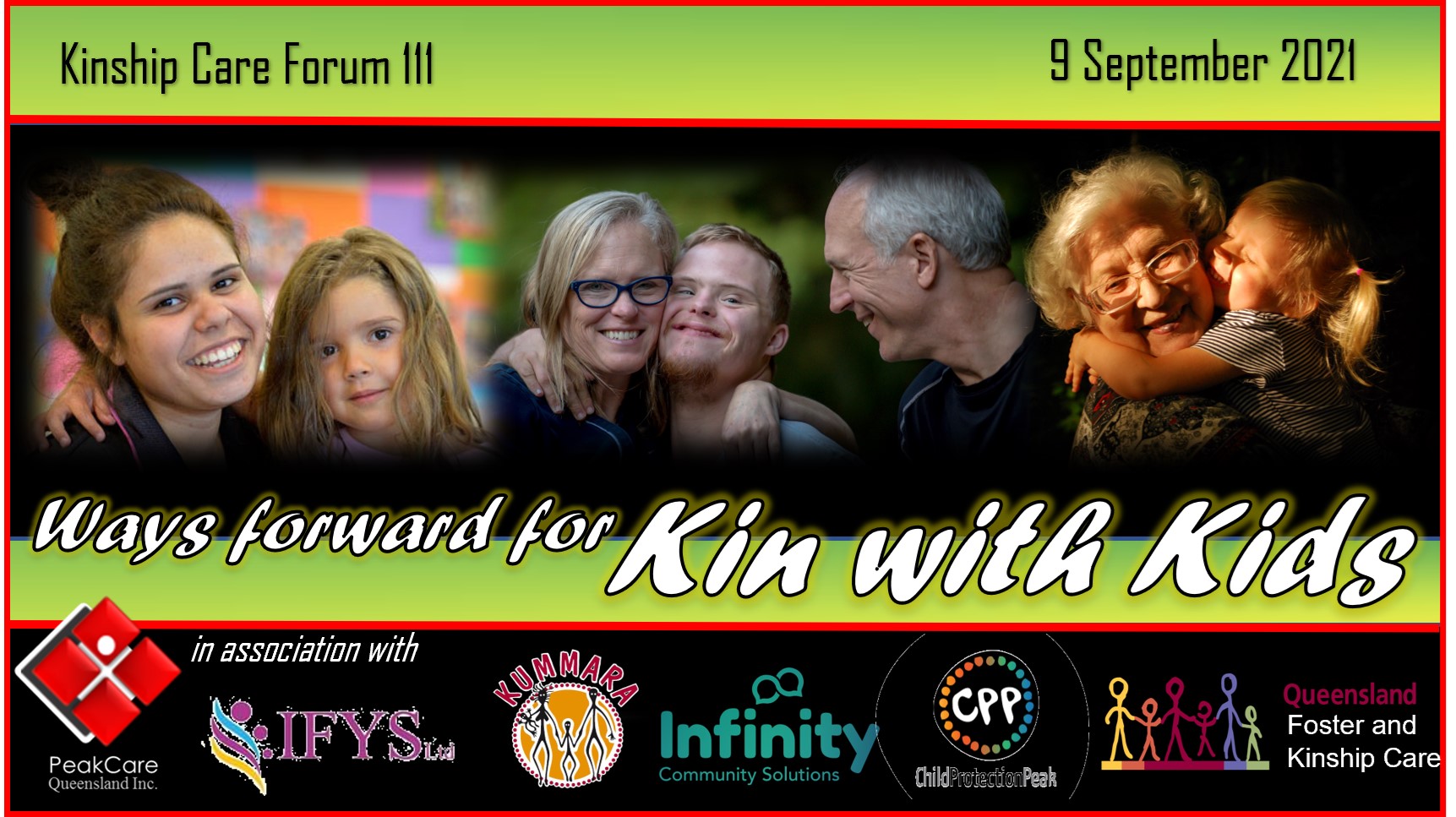 Ways Forward for Kids with Kin: Kinship Care Forum III
Thursday Sep 9, 9.30am to 3pm
Merthyr Rd Uniting Church, 52 Merthyr Rd, New Farm
Non-Members $40, Members $20, includes lunch
Carers & Online free
Bookings https://bit.ly/381GjRY
9.30am                Registration & cuppa
9.45am                Introduction and housekeeping
10.00am              Transforming residential care and kinship care
Queensland Department of Children, Youth Justice & Multicultural Affairs
10.20am              Statutory kinship Care: Is both quality and quantity possible?
Meredith Kiraly, honorary research fellow, University of Melbourne
Key issues building statutory kinship care programs, including lessons from the developing statutory kinship care in Victoria.
11.00am              Aboriginal and Torres Strait Islander Kinship Care Model
Candice Butler, Director Innovation & Practice Development
Qld Aboriginal & Torres Strait Islander Child Protection Peak
Showcasing an Aboriginal and Torres Strait Islander kinship care model that is culturally informed and culturally sound led by Aboriginal and Torres Strait Islander Community Controlled Organisations
11.30am              Working with Kinship Carers: partnering with families
Panel exploring finding kin and partnering with kinship carers to navigate the highs and lows of providing a statutory placement.
Bryan Smith, Executive Director, Qld Foster & Kinship Care
Ange Tyson, Senior Kinships support Worker, Kummara & Infinity Community Solutions
Annaley Clarke, Executive Director of Services, Kummara & Infinity Community Solutions
12.15pm              Lunch
1.00pm                Kinship Carers Panels
Facilitated by Joanne Roff, Operations Manager South (Child & families), Integrated Family & Youth Services
What kinship care currently looks like and how kinship care can be more supported. The needs, challenges, highs and lows of what carers experience. Identifying how to support them better.
1.45pm                Facilitated discussion, take home messages and next steps
3pm                      Finish